Church Links
We are very proud to be a Church of England Primary School. We have close links with St James' Church in Alveston. The Vicar, Reverend Canon Richard Williams leads whole school Collective Worship every Wednesday.
As a school, we visit the church at Christmas and at Easter for our end of term celebrations. In addition, Key Stage 2 children will be visiting to take part in Eucharist. Other visits to the church take place as part of other curriculum studies - looking at the features of a church etc.
Our school is in the Diocese of Coventry. We are a 'Cross of Nails' School. Every year we teach the children about how the cross appeared after the bombing of Coventry Cathedral. Children create their own crosses after reflecting on the story. Our collection of crosses is growing both inside and outside of the school building!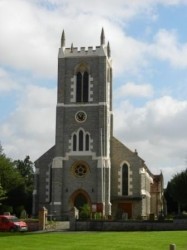 'There is a strong family atmosphere in the school, with Christian values actively promoted in all aspects of school life by all adults in the school' (SIAS 2012)